Flash Websites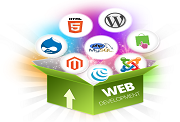 Our flash web design is attractive to captivate your website visitors with eye catching flash animations and special effects. Flash web design is a very versatile and popular method, use it to create a professional, high tech, or fun touch and make a lasting impression. There are many different ranges of flash animations which vary from application to application. All our flash templates and flash intros are coupled with nice-looking graphic designs, buttons, links action scripts etc.
A number of entrepreneurs and businesses have taken advantage out of our cost effective services. We empower you with our professional flash web designing skills and programming expertise so that you can focus on your business's core functioning.
Our Flash Web Design
Development Services:
Custom flash web design and development
Dynamic flash content.
Flash Animated Introduction.
Custom flash web design and development
Matching HTML pages for any flash site.