CMS Website Development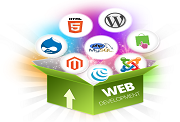 At Softgains Tech Solutions we create websites that can be loaded quickly and aesthetically looks appealing not only to your eye, but also help you achieve your online business goals.
CMS or a 'Content Management System' quite literally allows you to control and manage the content within your web site - without technical training. Using this uncomplicated system you can very easily add, delete images and edit text in your web site on the fly.
Functionality varies from CMS to CMS, but most are web based and offer some sort of access control. Many of the most popular websites in the world use free and publicly available CMS' like Wordpress, Joomla and Drupal.
Our strength is in our focus and clarity of your web designing and development needs from the very initiation of the process. This is our driving force for all our web-designing efforts, and this continues to drive us even today to serve your personal, business, and corporate requirements.Unlike other web design companies in India across the world, where you have to interact with non-technical personnel and sales executives to discuss your needs, we are a single point-of-contact between you and your web design requirements. At Softgains Technologies,we aspire to provide singular solutions for all your web design and development needs. This is our defining force and propels us forward to be partners in your success.