Bulk email marketing and newsletter services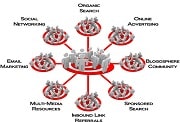 Bulk email is referred to email that is sent to many recipients at one time. Bulk email is also looked at as junk email, reason being the term bulk is more likely known to be unsolicited emails sent to a large number of people.
Bulk email concept is followed by business groups and companies for marketing their products and services. It can also be used by individuals to send information, invitation, photos to family or friends.
Using bulk email for email marketing strategies and for promotions by companies can be done to reach existing clients and gain prospective clients as well. Want to Boost your business? Get start with bulk email marketing and newsletter services